Published 20/10/2020
Last night, the European Parliament witnessed a disturbing and undemocratic development in regards to the vote on the EU farm subsidies scheme, the Common Agricultural Policy (CAP), which can potentially have disastrous consequences for animal welfare in Europe.
At the very last minute, the vote on some of the most important aspects of the file (amendments 1127-1141) were brought forward to today, Tuesday 20 October. This, without due attention to the Parliamentary process, given that voting lists and translations were finalised at the very last moment. This all happened behind closed doors, undermining the grounding of democracy and the people's right to know about institutions' activities.
EU Parliament must send the proposal back
Given this development, motivated by efforts to fast-track the compromise deal without proper debate, we urge Members of the European Parliament to vote today in favour of AM 1147 to send the CAP back to the European Commission. The Commission should submit a new proposal in line with their legal duties under the EU Treaties, the European Green Deal and the Farm to Fork strategy. There is ample time now that the current CAP is extended for two years. Preventing animal suffering, species extinction and climate breakdown, and ensuring a sustainable and ethical food system is worth a proper, democratic and coherent law-making process.
Is this turning into a toxic coalition?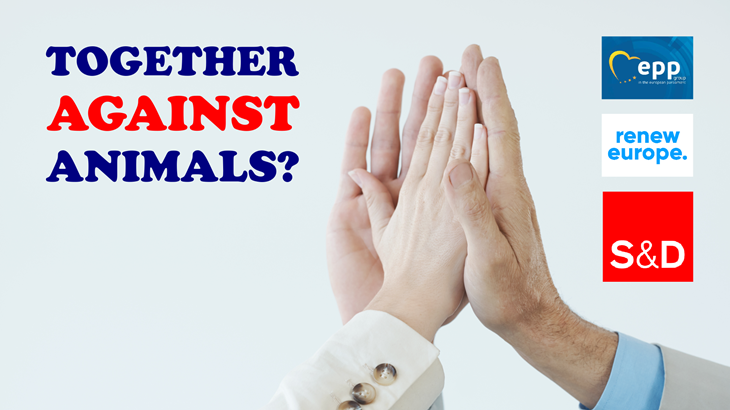 Many Members of the European Parliament from the three biggest political groups - the European People's Party, the Progressive Alliance of Socialists and Democrats and Renew Europe - have teamed up to squash any progressive proposals that were put on the table. This threatens to hamper the EU's ambition to promote important agricultural reforms. It also threatens to push the EU to take a giant leap backwards through amendments, such as the notorious 'veggie burger ban'.
Instead of aligning the subsidies' package with the European Green Deal and the Farm to Fork strategy, the position of this informal coalition is regressive. If adopted, it would represent steps backwards in comparison with the 2018 Commission proposal, which would allow another 7 years of animal suffering, ecological and social degradation, in direct contradiction with the 'Farm to Fork' strategy, the EU's Green Deal and its international commitments on biodiversity, climate, and SDGs.