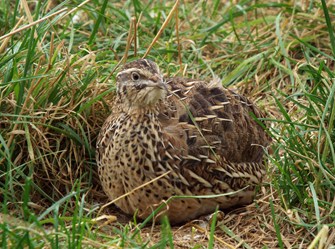 The most commonly farmed species of quail is the Japanese quail (Coturnix japonica). They were domesticated around the 11th century in Japan, and originally kept as song birds. In the 1950s, they were brought to Europe and are now bred for their meat and eggs. Quail are the smallest farmed bird, some weighing as little as 100g when fully grown.
There are around 20 different types of wild quail found around the world and around 70 domestic breeds. Domestic quail behave very similarly to wild quail, although they seem to have lost some, or all, of their migratory instincts.
The natural life of quail
Quail can be found living in grassy fields, cropland, and meadow habitats. Wild Japanese quail live in East Asia, Russia and parts of Africa, and some populations migrate. They feed mainly on grass seeds, but also eat small insects. Quail live on the ground: foraging, nesting and sleeping in the grass. They dust-bathe regularly to clean their feathers.
When in danger, quail fly up rapidly to avoid a predator but drop back into the grass a few dozen yards away. However, their first reaction to danger is usually to hide in the vegetation. Their elusive lifestyle means they are more often heard than seen; in fact, they have quite distinctive calls.
In the winter, quail usually live in large groups but in the breeding season, during warmer months, many quail will be found living in breeding pairs. Hens lay their eggs on the ground in simple nests made out of dry grass.
Quail farming today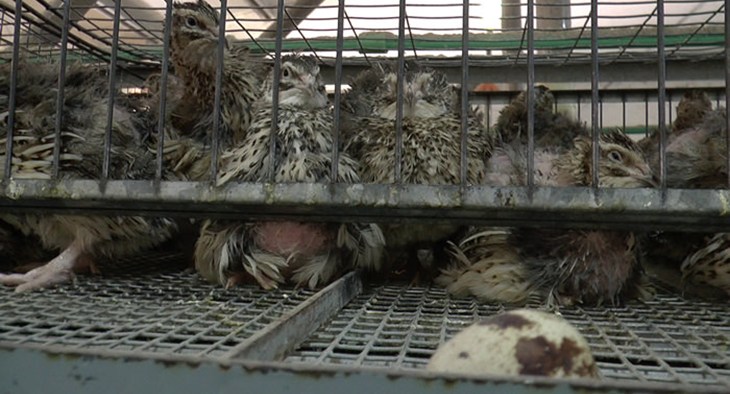 An estimated 1.4 billion quail are farmed annually for their meat and eggs. The majority of quail are farmed in China, with over 80% produced there. The European Union produces over 100 million quail, but the industry is largely unregulated and there are no official published statistics on this.
Quail reared for meat are slaughtered by around 5 weeks old. Egg laying quail hens start laying at around 7 weeks old and will be slaughtered at around 8 months old. The vast majority of quail are farmed intensively in battery cages or overcrowded barns.
Find out more about the welfare of farmed quail.