Published 08/03/2021
The EU has intervened to put diplomatic pressure to reduce the suffering of animals, who have been stranded at sea for over two and a half months. In the latest controversy to hit the trade of live animals, a pariah ship carrying over 1,700 cattle was allowed to anchor in Crete this weekend, after European Commissioner for Health and Food Safety Stella Kyriakides intervened on Friday.
The Elbeik is one of two vessels departing from Spain in mid-December, carrying young bulls for Libya and Turkey. Due to concerns over the bluetongue disease, the two ships were refused entry at all ports they reached. The animals have thus been circling the Mediterranean in hellish conditions.
On Friday, Kyriakides intervened and asked the Greek authorities to provide assistance with the Elbeik which was in need of fuel, feed and food, as well as to assess the condition of the animals.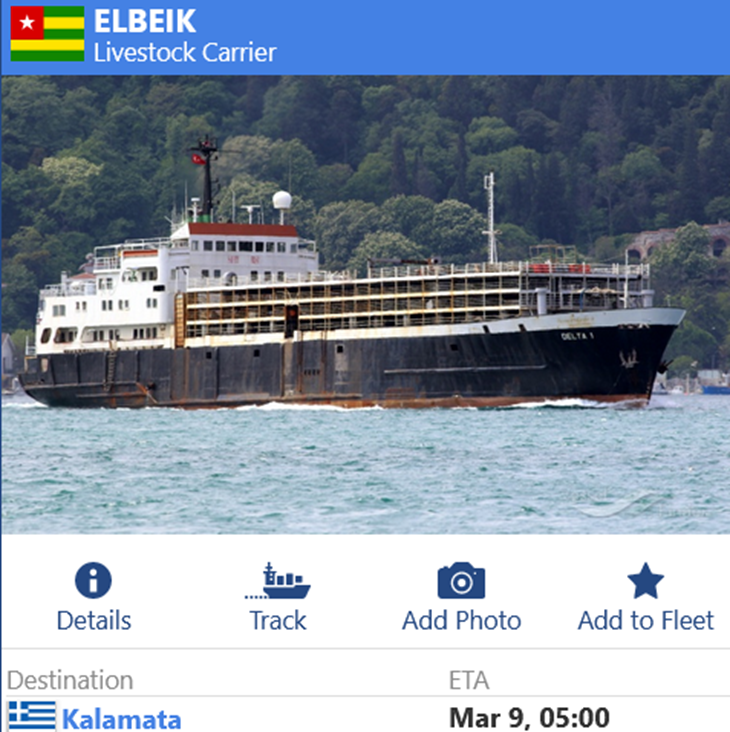 Hundreds of young bulls are being euthanised
Hundreds of animals are now being euthanised in Spain, after the second ship, Karim Allah, returned with the unwanted young bulls, who are all only between seven and eight months old now. The same fate unfortunately awaits the animals transported in the Elbeik if it reaches Spain.
Compassion in World Farming has been in close contact with the relevant authorities in Brussels, Greece, Cyprus, Spain and Italy to minimise the suffering of the animals involved.
Animals are not a sack of potatoes
"Unlike a sack of potatoes that can be shipped back and forth, cattle are capable of feeling pain and suffering," said Olga Kikou, Head of Compassion in World Farming EU. "It is an extremely upsetting situation where thousands of young bulls got stranded in sea for over two and a half months, only to be killed back in the country where they came from – and this is considered legal, despite EU law that intends to protect animals during transport and recognises animals as sentient beings!"
Olga added: "The intervention by Commissioner Stella Kyriakides was instrumental in mitigating the suffering of the young bulls in this instance. Still, we all need to look at the upcoming revision of the rules on animal transport and we cannot stress enough how ambitious that revision should be. To avoid such scandals and to end this unnecessary suffering, once and for all, the EU must ban the exports of all animals outside its borders. Even animals sent for breeding will encounter cruel treatment due to lack of parity with EU animal welfare standards. It is about time animals are not treated as cargo in the European Union."
EU law on animal transport
Every year millions of farmed animals are transported live on long and gruesome journeys, quite often in filthy conditions, cramped, and often trampling on each other. In summer, they are transported in scathingly high temperatures, dehydrated and exhausted. Some of them perish.
The EU Commission's 'Farm To Fork' strategy clearly states that the EU Commission intends to review the legislation on animal transport. In December 2019, the Council of the EU highlighted in its conclusions on animal welfare that 'clear shortcomings and inconsistencies remain' regarding the challenges of long-distance transport.
According to the European Commission's overview audit reports of animal transport by land and by sea, there is widespread non-compliance and regular failure by Member State authorities to enforce the EU law protecting animals during transport. In addition, there are many loopholes that need to be strengthened. In particular, we call for an end to exports of animals outside the EU.