Published 03/12/2020
Cage-free housing systems can be achieved in Europe, finds a new study by the European Parliament's research services, recommending financial and policy measures in the short term and legislation in the long term.
When animals are concentrated in large numbers in confined spaces, they do not experience a life worth living. Yet, every year in the EU over 300 million still spend all or part of their lives in cages, pens or stalls.
The report was commissioned in response to the very first successful European Citizens' Initiative for farmed animals, 'End the Cage Age', which was signed by 1.4 million people across Europe. The European Commission is expected to provide an official answer to the citizens' call in 2021.
The report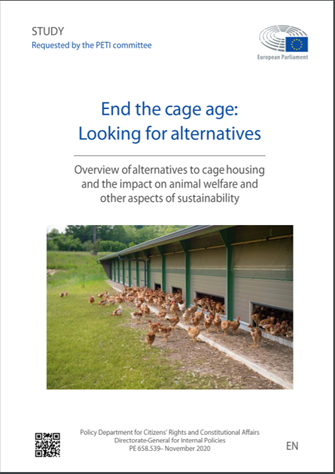 This 50-page report presents alternatives to caged housing of farmed animals, such as laying hens and sows. It confirms that cage-free housing has a positive effect on animals and that such a transition would not impact sustainability negatively.
"Adoption of legislation at EU level (e.g. European ban on cage-housing) seems the most promising route for achieving a 100% shift towards cage-free housing in the long term," highlights the report. The study also confirms that "the EU can make sure that animal products that do not comply with EU standards cannot be imported into the EU," highlighting that this would be important for European farmers who do their best to meet higher EU standards.
"The Parliament's researchers have just confirmed that the call of European citizens to end the cage age is indeed feasible," said Olga Kikou, Head of Compassion in World Farming EU and one of the organisers of the 'End the Cage Age' European Citizens' Initiative. "A wealth of scientific evidence, compiled over decades, shows that animals suffer in cages. Farmers are already adopting cage-free systems and this needs to be further encouraged and supported. It is clear that we need to ban cages and to ensure that no products below EU standards come onto our markets. We now look to the Commission to end the cage age in the EU."
1.4 million citizens unite against cages
In October 2020, the European Commission registered a successful European Citizens' Initiative calling for an end to the use of cages in EU farming.
The 'End the Cage Age' Initiative was signed by 1.4 million people across Europe and is only the sixth successful Initiative since the EU launched this democracy tool eight years ago. It is the very first successful Initiative for farmed animals.
Already 86 Members of the European Parliament have written to the European Commission urging it to phase out the use of cages for farmed animals. MEPs have also sent a video message to the Commission with this call.