Published 13/11/2020
Millions of laying hens in Czechia will no longer be confined in cruel cages from 2027! Today, on Friday the 13th, the Czech upper house of Parliament voted to confirm the ban on cages passed by the lower house in September.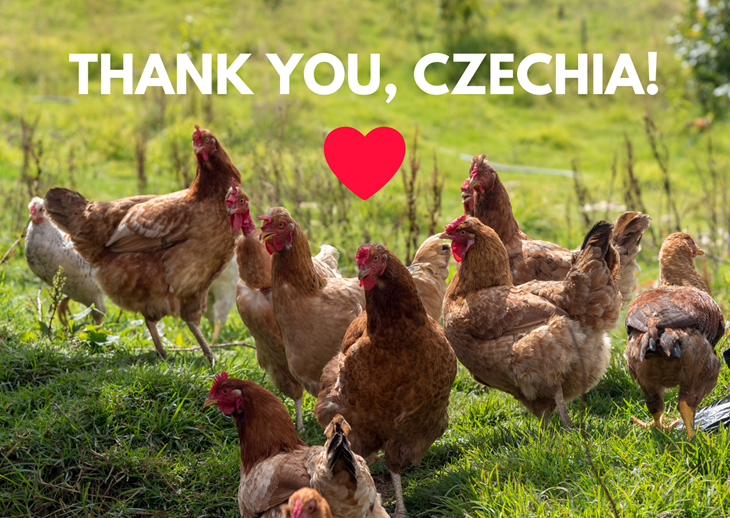 Compassion in World Farming warmly welcomes this new step towards ending the caging of farm animals in Europe, as well as the Czech government's declaration calling for an EU-level ban on caging hens.
"This vote is a victory for the millions of hens that will be freed from lives of confinement and suffering spent in cramped cages," said Romana Šonkova, Compassion in World Farming's Representative in Czechia. "It also sends a clear message to egg producers in the Czech Republic to stop investing in enriched cages. While 2027 seems a long wait for the ban, many big retailers have already committed to stop selling caged eggs from 2025, paving the way for a quicker transition away from cages".
In the EU, barren cages for hens are banned but so-called 'enriched' cages are still allowed. These 'enriched' cages are equally cruel. They restrict each hen to a space equivalent to an A4 sheet of paper and prevent them from performing many natural behaviours, such as dustbathing and wing-flapping.
In total over 300 million pigs, hens, rabbits, ducks, quail and calves are imprisoned in cages or stalls across the EU every year. The 'End the Cage Age' European Citizens' Initiative calling for an end to this cruelty has received 1.4 million signatures from citizens across the EU and  was handed in to the European Commission last month. The Initiative is also supported by a group of cross-party Members of the European Parliament.
"This wonderful news from Czechia takes Europe closer to ending the barbaric use of cages for farmed animals," said Olga Kikou, Head of Compassion in World Farming EU. "Earlier this year, Slovakia also agreed to phase out cages for laying hens, and Germany decided to ban cruel crates for pregnant sows, later in this decade. Now, it is high time the EU followed suit. With 1.4 million European citizens taking a stand and calling for the end of cages in animal farming, the European Commission must listen and bring forward legislative proposals for a cage ban as soon as possible."