Published 16/09/2020
Today, the lower house of the Parliament of the Czech Republic voted 'YES' to ban cages for laying hens from 2027. Compassion in World Farming welcomes this progress, as well as the commitment of Czech policy-makers to push for an EU-level ban.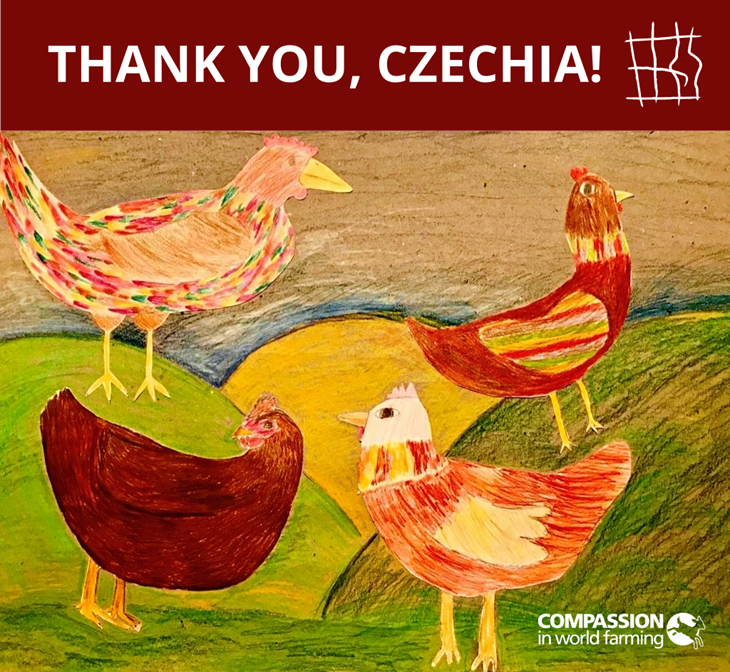 In Czechia, approximately 4.5 million hens are raised in cages each year. The new ban, which still needs a formal approval by the upper house of the Czech Parliament and the President, will cover cages for both laying hens and laying breeders.
Romana Šonkova, Compassion in World Farming's Representative in Czechia, commented: "Hens are not egg machines. They are sentient beings. They are capable of suffering, but also of enjoying life. Today's victory finally gives them a chance for a better life."
In the EU, barren cages for hens have been banned, yet the so-called 'enriched' cages are still allowed. These 'enriched' cages are equally cruel, restricting each hen to a space equivalent to an A4 sheet of paper and preventing them from performing many natural behaviors, such as dustbathing and wing-flapping.
Every year, over 300 million pigs, hens, rabbits, ducks quail and calves are imprisoned in cages across the EU. The 'End the Cage Age' European Citizens' Initiative recently collected over 1 million signatures from EU citizens, who called for an end to this cruelty. The initiative is also supported by a group of cross-party MEPs.
"BRAVO to Czech legislators!" said Olga Kikou, Head of Compassion in World Farming EU. "It is fabulous that they listened to the majority of Czech citizens and said 'NO' to cruel cages for hens. We have high hopes that this is the beginning of the end of caged farming in Europe."
"Today Czechia joined the ranks of other progressive countries that have made commitments or have already banned cages for farmed animals, going beyond the very basic and outdated common European standards," Olga added. "Just this year, Slovakia agreed to phase out cages for laying hens and Germany banned cruel crates for pregnant sows. The EU should not fall behind. Only then can it continue to call itself a leader in animal welfare."