Published 14/02/2019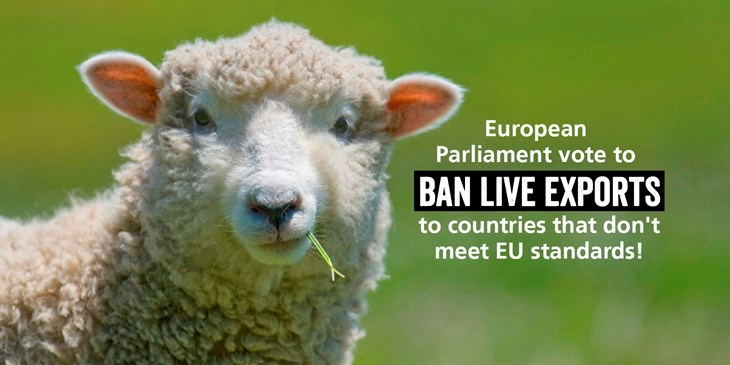 On Valentines' day, the European Parliament showed its love for animals! On 14 February 2019, in Strasbourg, it voted by an overwhelming majority to call for a ban of live animal exports to countries that do not meet EU standards.
The European Parliament adopted a new report on the implementation of the law protecting animals during transport. The report recognised that live animals should not be transported to non-EU countries, where the laws ensuring the welfare of transported animals are not equivalent to the EU, or where these laws are not correctly enforced.
The report also recognised the lack of strong and harmonised enforcement across the EU and that a number of urgent issues related to the Regulation need to be resolved, including overcrowding; failure to provide the required rest stops, food and water; transport in extreme heat; transport of unfit animals; and insufficient bedding.
"Compassion in World Farming congratulates the European Parliament on the occasion of this vote!" said Olga Kikou, Head of Compassion in World Farming EU. "This is an issue we have been campaigning on for many years. No animal should suffer during transport over long distances and under inadequate conditions, only to face brutal treatment on arrival to countries that don't meet EU standards. We hope that later this year, the new European Commissioners will seriously consider this recommendation and present a comprehensive proposal regarding this ban."
Earlier in January, the European Parliament's Agriculture Committee adopted this report, which was now voted on by the entire Parliament. The draft report received a lot of attention, with 431 amendments tabled by the Committee members and 30 compromise amendments.