The 'End the Cage Age' European Citizens' Initiative calls on the European Union to phase out the use of cages in animal farming. The Initiative received 1.4 million signatures from all across Europe.
The number of signatures, verified by national civil servants, easily exceeds the threshold of 1 million required for a European Citizens' Initiative to be valid. 'End the Cage Age' is only the sixth Initiative, and the first for farmed animals, to satisfy this requirement. The signatures also outstripped the prescribed minimum thresholds in 18 EU member states. This outstanding civic mobilisation was the result of outreach by a coalition of over 170 organisations across Europe.
In June 2021, the European Commission made a historic commitment to phase out cages in animal farming across the EU. It intends to present a proposal for a new law by the end of 2023 to prohibit the use of cages for all the animal species referred to in the Initiative. The Commission will evaluate the details for how the prohibition will roll out by the end of 2022.
Why we need to end the use of cages
The EU has already taken some first steps in improving the lives of farmed animals, such as requiring cages for hens to contain 'enrichment' like scratching areas and perches, as well as placing certain limits on the time when cages for female pigs (sows) and calves can be used.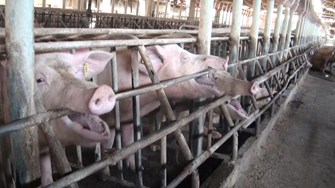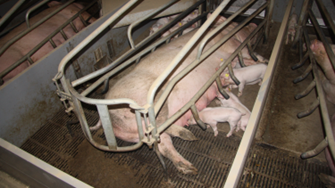 However, when animals are concentrated in large numbers in confined spaces, they do not experience a life worth living. There is a great deal of scientific evidence that farmed animals suffer in cages, yet every year in the EU over 300 million still spend all or part of their lives in cages, pens or stalls.
For example, even in 'enriched' cages egg-laying hens have only the space of about an A4 sheet of paper, which does not allow them to perform basic needs such as dustbathing and wing-flapping. Rabbits raised for meat have a similarly tiny space and some are unable to stretch up or out fully and generally do not have enough space to perform a single hop. Almost all adult female pigs spend nearly half of every year inside crates, in which they cannot even turn around.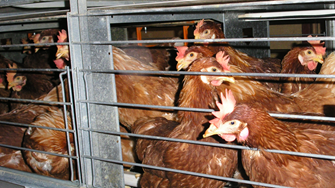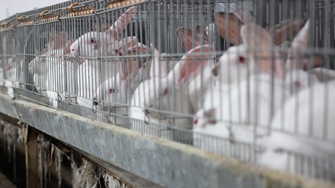 This confinement causes tremendous suffering. Such treatment is not only inhumane but also unnecessary, as cage-free systems are both viable and in use. Now the majority of hens kept commercially in the EU are farmed in alternative systems, whether barn, free range or organic.
The public overwhelmingly favours improving the welfare of farmed animals. An official Eurobarometer public opinion poll found that 94% of EU citizens believe that protecting the welfare of farm animals is important and 82% think farm animals should be better protected than they are now.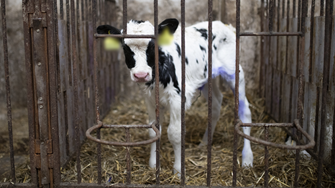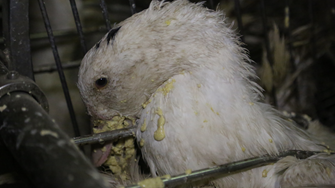 Until recently, the EU was slow to take action, so EU member states had to take the lead. Cages for laying hens are, or soon will be, phased out in Austria, Czechia, Germany, Luxembourg and Slovakia. Cages for meat rabbits are banned in Austria and will be in Belgium. Crates in which sows are confined around the time of their insemination are already illegal in Sweden, will be illegal in Germany and their use is or will be limited in Austria and Denmark. Crates where sows are confined around the birth of their piglets, are illegal in Sweden and their use will be limited in Germany.
What others are saying
The European Parliament has called for an end to caged farming by 2027, adopting a resolution

that was passed by an overwhelming majority, with 558 Members of the European Parliament (MEPs) in favour to 37 against. The momentum was built up by an

official group of parliamentarians working on this issue.
Czechia is pushing for an EU-level ban on hen cages and has already put this on the agenda of the Council of the EU. Greece and Cyprus have committed to support such a ban.
The European Committee of the Regions supports ending the use of cages throughout Europe.
More than 140 scientists have called for an end to caged farming, including world-renowned ethologist and conservationist Jane Goodall, PhD, DBE, UN Messenger of Peace and founder of the Jane Goodall Institute.
Ten of Europe's leading food businesses, including Nestlé, Unilever and Mondelēz International, have called on the EU to phase out caging farmed animals, starting with laying hens. These companies and over 1 000 other businesses across Europe have eliminated caged eggs from their supply chain or have pledged to do so by 2025.
Greenpeace, organics producers IFOAM, the European Public Health Alliance, Slow Food Europe and others have backed the campaign noting the end to cages will "help address the inter-related public health, rural employment, environmental and animal welfare crises linked to caged animal farming as a central prop of industrial animal agriculture."
The International Veterinary Students' Association (IVSA), which represents nearly 40,000 members from over 70 countries, including working veterinarians, has issued a position statement calling on the EU to end the use of cages for farmed animals.
Further resources