Published 08/10/2020
Today, 8 October 2020, 86 Members of the European Parliament (MEPs), wrote to the European Commission urging it to phase out the use of cages for farmed animals.
Earlier this month, the European Commission registered a successful European Citizens' Initiative calling for an end to the use of cages in EU farming. The 'End the Cage Age' Initiative was signed by 1.4 million people across Europe and is only the sixth successful Initiative since the EU launched this democracy tool eight years ago. The Commission has six months to respond to this call.
MEPs from across the political spectrum wrote to Commission Executive Vice-President Frans Timmermans (European Green Deal) and Commissioners Stella Kyriakides (Health and Food Safety) and Janusz Wojciechowski (Agriculture) in support of the Initiative.
The MEPs call for a ban on all cages for farmed animals: laying hens, rabbits, sows (adult female pigs), calves, quail, ducks, geese, pullets (young hens) and breeders for meat chickens.
In the letter, the MEPs deplore that over 300 million farmed animals in Europe spend all, or a significant part, of their lives imprisoned in cages. Laying hens and rabbits raised for meat are kept in space about the area of an A4 sheet of paper, and almost all sows spend half of every year inside cages in which they cannot even turn around.
The MEPs highlight that caged farming causes tremendous suffering, as animals cannot perform most of their natural behaviours.
The MEPs note that many EU countries have already introduced national laws going beyond the minimum EU standards. They urge the EU Commission to create a level playing field for farmers. The letter calls for harmonisation of these different standards at the highest possible common denominator, and for a ban on all products imported into the EU that do not meet these standards.
MEP Eleonora Evi (Italy, NA), Co-chair of the MEP working group on cage-free farming, said: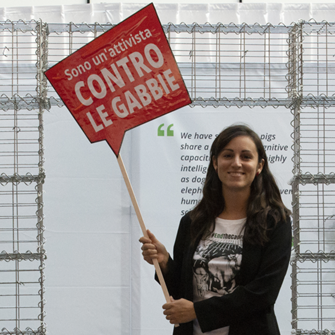 "The inhumane practice of caged farming, which every year condemns over 300 million animals to spend their life locked in a cage, often of the size of an A4 sheet of paper, can no longer be tolerated. The Commission has already admitted the need to improve animal welfare in the EU and in its Farm to Fork Strategy has announced a revision of the animal welfare legislation. Now it's time to put words into action and deliver what EU citizens are asking. We need to transition away from intensive farming practices and towards the creation of a food system that respects human health, nature and is no longer based on animal cruelty and reckless exploitation. I expect the Commission to take into serious considerations the requests of this European Citizens Initiative and come forward with an ambitious legislation to ban the use of cages in animal farming. This outstanding mobilization and expression of civic engagement and participation cannot be ignored by our institutions."