Published 02/07/2020
On 1 July 2020, the U.S. State of Colorado banned all cage confinement of egg-laying hens! This marks the 7th U.S. state to ban cages for hens and the 6th U.S. state to ban the sale of eggs from caged hens. This goes well beyond what the law requires in the EU, where over 200 million hens are still in cages.
The new bill, which will be phased in starting in 2023, bans the use of cages on Colorado farms, sets standards for cage-free confinement for chicken, turkey, duck, goose, and guinea fowl hens, and requires that all eggs sold in the state (whether sourced from Colorado or not) come from cage-free farms.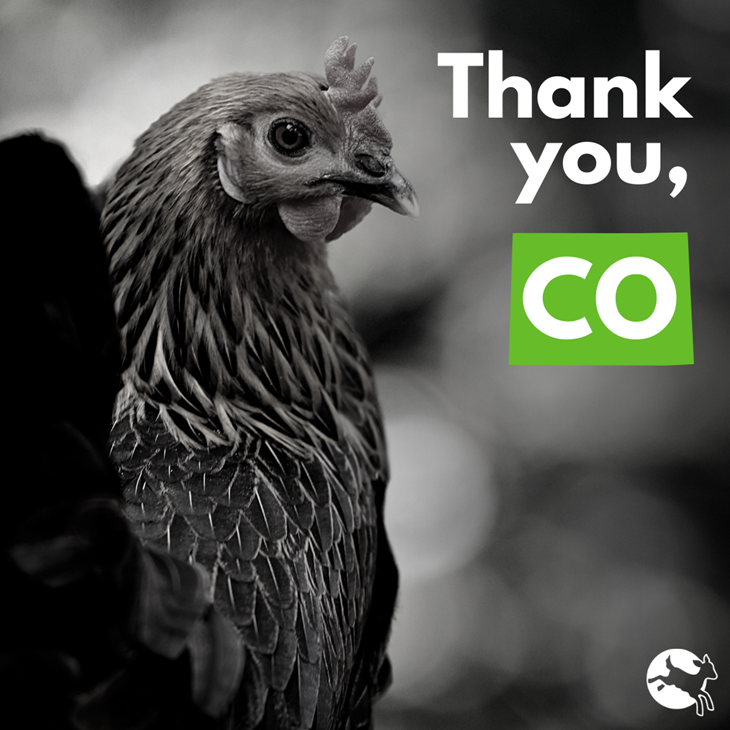 In the EU, while barren cages for hens have been banned, the so-called 'enriched' cages are still allowed. These 'enriched' cages are equally cruel, restricting hens to spaces equivalent to an A4 sheet of paper and preventing them from performing many natural behaviors, such as dust-bathing and wing-flapping.
Over 300 million pigs, hens, rabbits, ducks quail and calves are imprisoned in cages across the EU. The 'End the Cage Age' European Citizens' Initiative recently collected over 1.6 million signatures from EU citizens, who called for an end to this cruelty.
Our reaction
"Colorado's progressive ban on all cages for hens is wonderful news!" said Olga Kikou, Head of Compassion in World Farming EU. "We hope EU policy makers will soon follow suit and ban the so-called 'enriched' cages for hens, which are unfortunately still allowed under EU law. A hen in an 'enriched' cage does not experience a life worth living. As the confinement caused by the Covid-19 outbreak has shown us, a gilded cage is still a cage!"
"In order to reassert its leadership on animal welfare standards, the EU must end the use of cages for all farmed animals," Olga added. "Cages are cruel and completely unnecessary. Most cages are barren, cramped, and deny the animals space to move freely. Plus, intensive animal agriculture is unsustainable and contributes to the current climate breakdown. Recently, EU leaders have shown good signs of ambition to bring the EU into the 21st century. They must now put words into practice and end the use of all cages for all farm animals – for animals, for people and for the planet!"
The ban in Colorado
The new law in Colorado, which is set to be phased in starting in 2023 (with a full ban on cages in 2025), includes the following important protections for egg-laying hens, includes the following important protections for egg-laying hens:
Requires all egg-laying hens are housed in cage-free systems;

Sets minimum floor space standards to give birds more room to roam;

Mandates the use of species-important enrichments that allow for normal natural behaviors, such as perching, nesting, and dust bathing;

Bans the sale of whole, shell eggs from out-of-state systems that fail to meet these standards;

And requires all farms that produce eggs to be sold in Colorado be annually certified as compliant with these new standards.
With almost 5.5 million egg-laying hens housed on Colorado farms – in addition to millions more out-of-state birds that provide eggs for Colorado consumers – this law is set to have major, meaningful implications for farmed animals.
Ending the Cage Age in the EU
Since 2018, Compassion in World Farming has been leading a coalition of 170 organisations from across Europe to support the 'End the Cage Age' European Citizens' Initiative. Over the period of one year, the Initiative collected over 1.6 million signatures from all EU Member States, which is way above the minimum requirements! After verification by Member State authorities, the signatures will be submitted to the EU Commission, which will be legally obliged to decide whether to propose a new law to address the concerns of EU citizens.
For further information, please see our report on caged farming in the EU, available in Czech, Dutch, English, French, German, Greek, Italian, Polish and Spanish.