Published 21/04/2019
Twelve Members of the European Parliament (MEPs) took part in the Easter action to support an end to the use of cages in farming across Europe.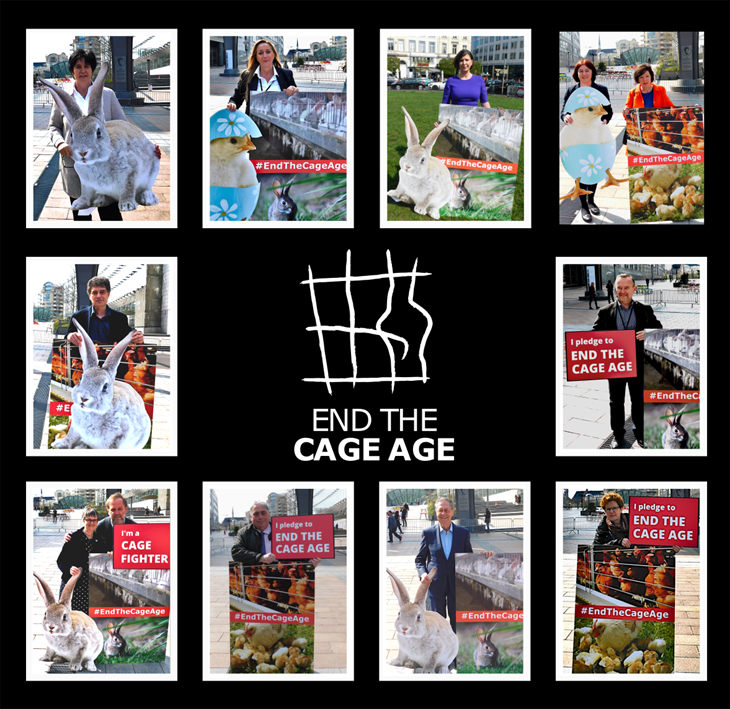 Throughout the Easter holiday season, images of bunny rabbits joyfully hopping around as well as baby chicks on green grass could be seen everywhere. However, nothing could be further from the truth as hundreds of millions of rabbits and hens across Europe lead miserable lives confined in cages.
That is why, ahead of Easter, MEPs from various political groups and countries showed their support for the "End the Cage Age" European Citizens' Initiative – a direct democracy tool that requires the European Commission to respond to its call. MEPs were photographed and made video statements, explaining that the Easter holiday presents a disconnect between our perceptions and the reality for farm animals.
In Europe, more than 300 hundred million animals spend their entire lives in cages – confined, restricted and thwarted from carrying out their natural behaviours. Cages are cruel and completely unnecessary. The "End the Cage Age" European Citizens' Initiative calls on the European Commission to propose a ban on cages for animals such as hens, pullets, sows, calves, ducks, geese, quail and rabbits. 
The following MEPs showed their support for Initiative: 
MEPs Alex Mayer (United Kingdom, S&D)
MEP Anja Hazekamp (Netherlands, GUE/NGL)
MEP Bart Staes (Belgium, Greens/EFA)
MEP Davor Škrlec (Croatia, Greens/EFA)
MEP John Flack (United Kingdom, ECR)
MEP Klaus Buchner (Germany, Greens/EFA)
MEP Maria Heubuch (Germany, Greens/EFA)
MEP Maria Noichl (Germany, S&D)
MEP Marlene Mizzi (Malta, S&D)
MEP Molly Scott Cato (United Kingdom, Greens/EFA)
MEP Pascal Durand (France, Greens/EFA)
MEP Theresa Griffin (United Kingdom, S&D)