The EU gives millions of euros each year for marketing campaigns with the purpose of increasing our consumption of animal products made in the EU. This poor use of public funds unfortunately hampers efforts to reform our food systems and tackle issues related to environmental degradation, animal welfare and human health. We are calling on the European Commission to revise this absurd policy, in line with its recent plans to reform food production and beat cancer.

The EU is now in the process of revising its advertising scheme for European agricultural products. The current scheme funds marketing campaigns that present a false image of how animals are raised and may mislead consumers about the health and the environmental impacts of animal products.
In one notorious example, the 'Beefetarian' marketing campaign, the EU awarded €3.6m to 'incite the consumers not to have a stereotyped idea about red meat and to enable them to be again confident about their consumption decision.'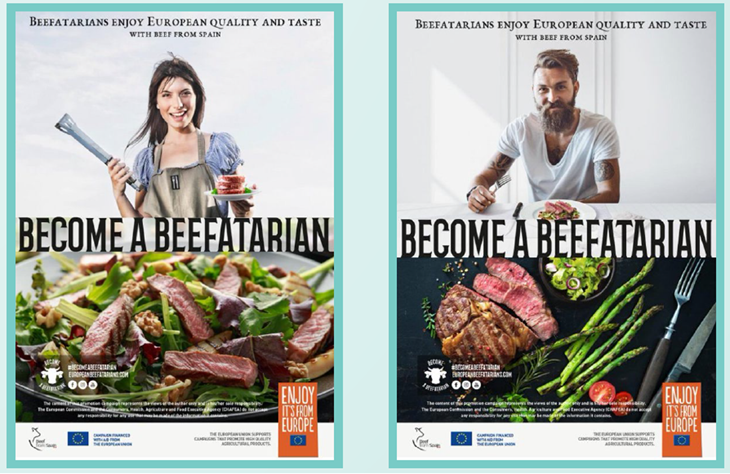 The funding that the EU allocates for advertising animal products is simply not aligned with the latest ambitions of EU strategies to tackle issues such as unhealthy diets, poor animal welfare, climate change, pollution of air, land and water and the associated decimation of biodiversity.
In February this year, the Commission published a new plan to fight cancer, which includes a commitment to encourage a 'shift to a more plant-based diet, with less red and processed meat and other foods linked to cancer risk and more fruit and vegetables.'
Earlier, in May 2020, the Commission released its new food policy vision – the 'Farm to Fork' strategy, which recognised that our 'food consumption patterns are unsustainable', and that the EU average consumption of whole-grain cereals, fruit and vegetables, legumes and nuts 'is insufficient.'
The EU rears and slaughters 9 billion terrestrial animals each year.[1] Insufficient legal protection of their welfare condemns billions of these sentient beings to short and brutal lives on factory farms and to suffering at slaughter. In addition, over half a billion fish spend a life of misery in underwater factory farms in the EU. Cruel methods of capture and slaughter are commonly used for farmed and wild fish.
To protect our health and our one and only planet, scientists are recommending that Europeans reduce their consumption of red meat and poultry by two thirds.
EU-funded ads should no longer incite an increased consumption of animal products. Instead, they should support plant-rich foods and thus facilitate a transition to healthier and more environmentally friendly diets. Fewer animals raised for food also means that we can more easily transition away from intensive methods of production, which cause animals tremendous suffering.