Published 20/01/2020
On 5 February 2020, we are co-organising an event on the true price of meat, together with the True Animal Protein Price Coalition (TAPP). The event is co-hosted by MEPs Bas Eickhout (the Netherlands, Greens/EFA), Mohammed Chahim (the Netherlands, S&D) and Sylwia Spurek (Poland, S&D).
In the context of the Paris Climate Agreement and the European Green Deal, we are calling on the EU to make Europe the first climate-neutral continent. During the event, we will discuss what the EU can do to promote a true price of meat – both in the EU and worldwide.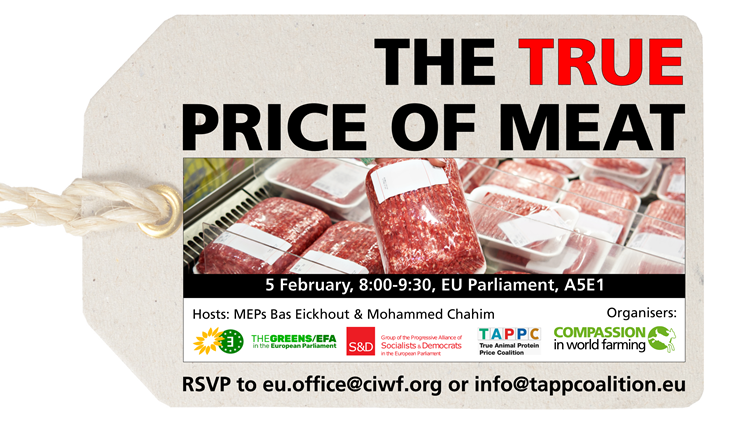 To register for the event, RSVP before 25 January 2020 by sending your first name, last name, date of birth, nationality, type of ID and ID number to info@tappcoalition.eu and eu.office@ciwf.org.
PROGRAMME
Moderator: MEP Bas Eickhout (the Netherlands, Greens/EFA)
8:00 Registration and breakfast
8:20 Welcome and background – MEP Sylwia Spurek (Poland, S&D)
8:30 "The benefits of sustainability and health taxes on meat in EU countries," Robert Vergeer, Researcher, CE Delft, the Netherlands
8:40 "TAPP Coalition report 'Aligning EU food (pricing) policy with the European Green Deal', the true pricing of food including CO2 costs," Jeroom Remmers, Director of the True Animal Protein Price Coalition
8:50 "Reflections on the true cost of production of animal products," Olga Kikou, Head of EU Office of Compassion in World Farming
8:55 Comments by MEPs
9:10 Q&A
9:25 Closing remarks – MEP Mohammed Chahim (the Netherlands, S&D)